We aim to improve health outcomes for those with fungal infections or allergies by delivering free medical education (#MedEd) materials and the latest news to clinicians and medical lab staff around the world.
Your time is precious, so we summarise the take-home messages from the scientific literature and medical community that help you to improve your clinical practice.
Rather than a static website, we are a integrated with Twitter, LinkedIn, YouTube
When to suspect a fungal infection
Selecting and interpreting the right diagnostics
Promptly initiating the best evidence-based treatment(s)

Target audience: doctors, nurses, radiologists, laboratory staff, ophthalmologists, critical care units, paediatricians, transplant centres, physiotherapists, epidemiologists, public health professionals, general practitioners, dermatologists, HIV/AIDS centres.
International outlook: each country faces a different set of challenges depending on endemic mycoses and prevalence of underlying factors (e.g. HIV/AIDS, TB). Each healthcare system is different, and may be limited by factors such as funding and which drugs are registered in that country. However, high-quality education in multiple languages can help everyone to make the best of what resources are available.
Location and funding: we are based within the National Aspergillosis Centre at Wythenshawe Hospital (part of Manchester University NHS Foundation Trust). We are supported by the Fungal Infection Trust, a UK charitable foundation set up 20 years ago.

Our team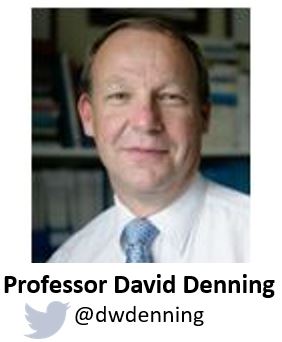 Professor David Denning has been caring for patients with fungal infections for 30 years
Founded the National Aspergillosis Centre (Manchester, UK), a specialist NHS care commissioning group that treats x00 patients with

CPA

, ABPA and other forms of aspergillosis and provides information and support to patients and their doctors.
Founded the spinout company F2G Ltd, which is currently conducting a phase 2b clinical trial of olorofim (formerly F901318), an orotomide antifungal with a novel mechanism of action.
Founded Myconostica Ltd, which develops rapid  molecular diagnostics for invasive fungal infections.
Scientific Director of the Fungal Infection Trust, as UK charitable foundation (Charity Commission no. 1147658).
President of the Global Action For Fungal Infections (

GAFFI

), an advocacy organisation that pushes for universal access to fungal diagnostics and treatments, for example by ensuring they are represented on the WHO Essential Diagnostics List and Essential Medicines List.
Active participant in drafting guidelines and the mycoses section of the ICD-11.
Read his publications


International advisers
David Perlin | Thomas Harrison | Malcolm Richardson
Juan Luis Rodríguez Tudela | Arunaloke Chakrabarti